We are qualified swimming pool constructors assisting in an extensive range of services that will make your pool intact and beautiful for years. Our professionals will consult with you on key issues for the layout, including how to design the pool in a way that cuts down on your maintenance costs. We have a team of experts who strive to ensure that we exceed our client's expectations and turn their dreams into reality. We can construct swimming pools of any size and area as per your requirements. To make sure that your beautiful pool remains for a long time, we use high quality, international standard materials. Beautiful Garden Dubai is counted amongst optimum swimming pool contractors in Dubai.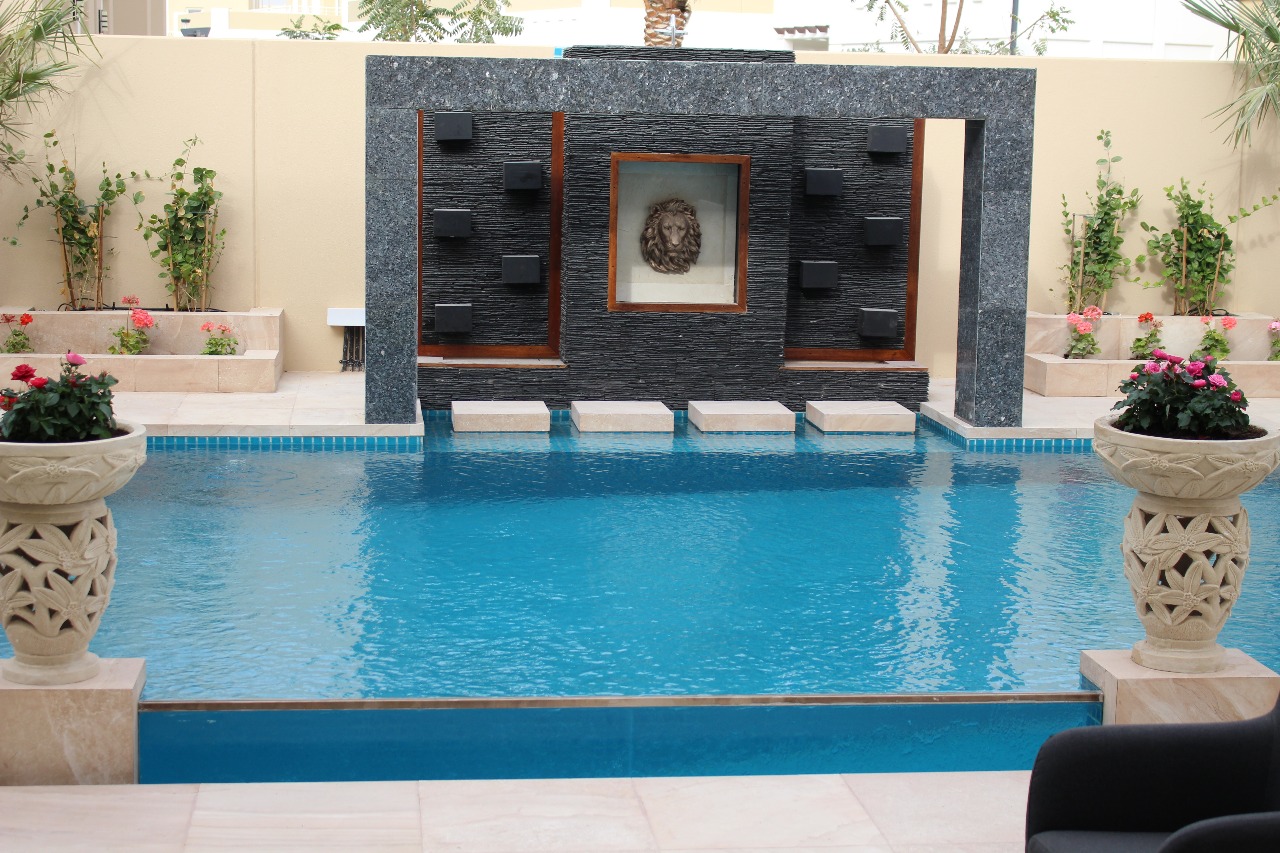 Latest Swimming Pools Works
We have created state-of-the-art designs in both residential and commercial setups. Our swimming pools are not only a relaxing spot to beat the heat, but we provide a serene beauty which will mesmerize you every time you will look at the water. Browse through our gallery of projects to find out the masterpiece we have created so far. We are the best option if you are searching for a prestigious swimming pool construction company Dubai.
Cost & Process of Swimming Pool Construction & Design
Our process of swimming pool construction is smooth and stress-free. We will not take you much time in drilling and craft a beautiful pool. We complete our projects within 3 months to make sure that our clients stay undisturbed. We charge 320 AED for 1 Sq. Feet that can build a pool of any size and design you can think of. Due to the rich experience and proficiency of our technical team, we are regarded as the most reliable swimming pool construction company Dubai.
01. Inspection the Landscape
Our professional experts will visit your area to inspect the land and confirm the size and design after discussing with you.
02. Select the Shape
As per the size of the land, we provide a portfolio to select a shape which you find the best. We also offer consultation for design aspects.
03. Choose the design
We understand your demands and believe in your visions. We have the capability to turn your dreams into reality. Just tell us your preferred design.
04. Sign
After your approval for shape and design, we start working on the project without wasting the time and sign a legal contract. We are the swimming pool contractors in Dubai who comply with all formalities.
---
Commercial & Residential Swimming Pool Construction Services Include
Beautiful Garden is ready to take all the worries and stress off from your shoulders by providing affordable services of swimming pool construction in Dubai and all over the UAE. We have created masterpieces in both commercial and residential setups. Our designs are impeccable that you won't find anywhere else. Our success is rooted in our firm belief that providing incomparable and exceptional service is the only way to make our client happy. All such qualities make us the best swimming pool contractors in Dubai.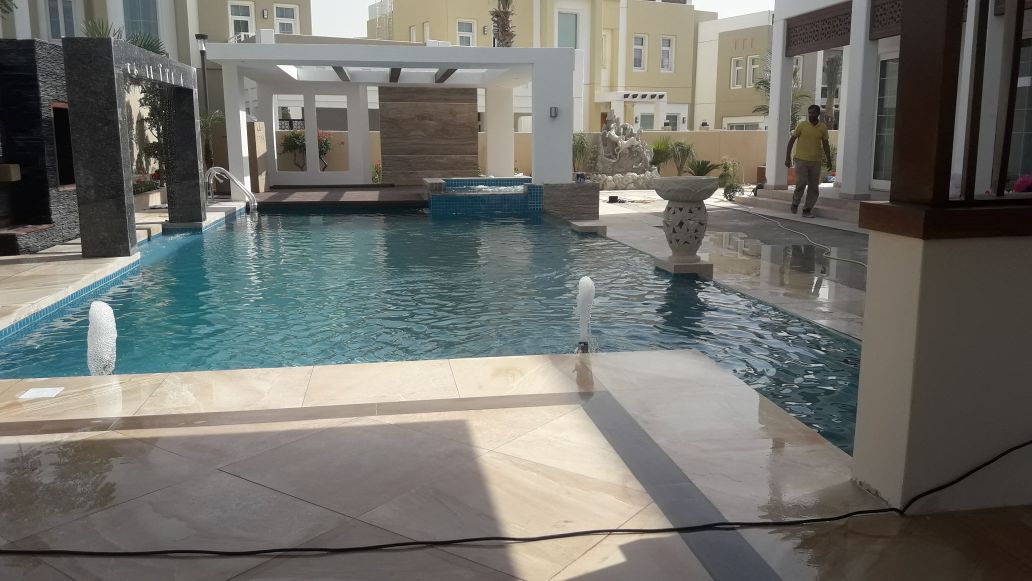 01. Landscaping Works
We provide great designs and supreme quality in creating a beautiful landscape. Our swimming pool construction company Dubai hires only professionals who are creative and capable.
02. Irrigation Works
We design an automatic irrigation system in your land. You do not have to manage water flow or rate during summer heats anymore. We have expertise in all types of Sprinkler, Drip and Combines irrigation systems.
03. Interlocking
We can create beautiful tracks and pathways with paving stones and several other materials. Let us make a beautiful addition in your landscape.
04. Pool Maintenance and Cleaning
We provide top quality pool maintenance services. We use high quality, international standard materials for repairs, maintenance, and cleaning.
05. Swimming Pool Fencing Wall
Let us make your pool secure so that you can enjoy a stress-free dive. We can craft a beautiful fence wall around your swimming pool.
06. Fiberglass Pool
We create extremely strong and non-porous pools with the excellent surface's properties that are resistant to dirt and algae. Once built, all that needs to be done is brought to your house and firmly put in place. Only rely on a competent swimming pool construction company Dubai to realize your dreams.
---
Learn More About Swimming Pools
Maintenance
Dirty pool not only stops you from taking a dive, but the bad water can cause several illnesses. Crack, leaks, broken heater, and chipped surface is a real headache. As a responsible swimming pool construction company Dubai, we pay special attention towards maintenance.
Installation
There are various factors involved which should be monitored before installing a pool. From the depth of the drilling to the material used, learn how Beautiful garden can help.
The Repair and Refurbishment
Are you bored of the old look of your swimming pools? There are various ways to refurbish it and turn it into a new beauty. Here is how we can help.
The Water Chemicals
Various grades of chemicals available which can either clean your pool or make the water more dangerous. Learn about the environmental-friendly chemicals. We, the prestigious swimming pool contractors in Dubai do not use harsh chemicals.